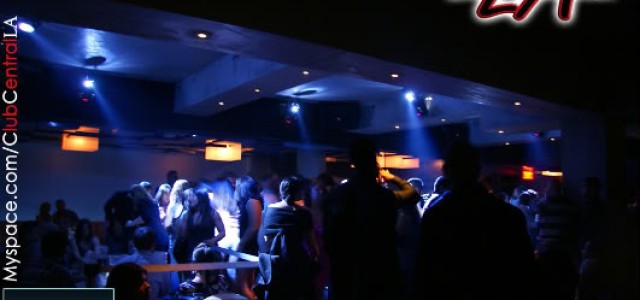 Elevate Lounge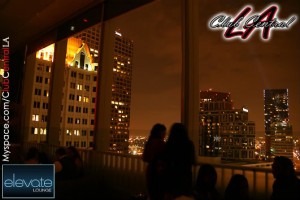 Los Angeles California, the city of Angels and the home to the greatest nightlife in the entire west cost. Yes, Los Angeles seems to have it all, from bars and restaurants to lounges and nightclubs, no matter whom you are or what you like, this city will have something special for you. With so many great nighttime attractions to choose from, who better to show you the finest venues LA has to offer than none other Club Central LA, Southern California's number one source for nighttime entertainment. Each week, Club Central LA brings you the best, as we introduce to you the hottest nightclubs, bars and lounges in your town. This week, Club Central LA decided to stay close to home, as we headed to beautiful Downtown LA to visit one of So Cal's most attractive and unique venues. This location offers its guests a one-of-a-kind experience by elevating one over the gorgeous LA night sky for a view that will hypnotize both one's mind and soul. The venue we are speaking of is none other than Elevate Lounge, the 21 and over 7000 sq ft upscale sophisticated lounge that has quickly become one of LA's elite after hour's locations.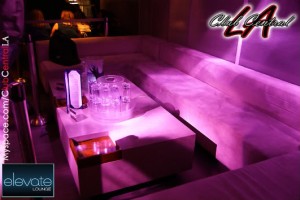 Elevate began its humble beginnings in 2007, when the Downtown Entertainment Group decided to bring to the city of Los Angeles a fresh new idea that would revolutionize how Angelenos enjoyed the glitz and glamour of LA. What they had in mind was to create an ultra lounge that would offer guests the opportunity to feel the energy and beat of the city. They believed the best way to accomplish this was to position their new attraction, in a penthouse suite elevated 21 stories above the city streets in the heart of Downtown LA's financial district. After months of extensive decoration and remodeling, Elevate was born. But before the Downtown Entertainment Group was ready to reveal its new creation to the general public, they started the life of Elevate with a soft grand opening that catered to private parties and small events. Elevate was seen as a dream for event planners as this new ultra lounge could be customized in so many ways. But with more and more success and popularity due to its location and design, the Downtown Entertainment Group could no longer keep their peace of paradise a secret and in late 2007, Elevate Lounge had a grand opening that did not disappoint as guests from all over waited anxiously in line to enter this innovative bliss in the sky. When this night came to a close, the Downtown Entertainment Group knew it had created another successful venture. In 2009, the Elevate Lounge is still rising as it leaves it mark in LA entertainment.
Parking
Anyone who has ever tried to find parking in Downtown LA knows that it's nearly impossible to find a spot that is both convenient and affordable. When visiting Elevate Lounge, this is not a problem as this venue eliminates the hassle of finding parking in busy Downtown LA. Valet parking is offered to everyone for an excellent price of $7 per vehicle. Not only that, but their parking structure is located right next to their location making for quick and easy access from and to your vehicle.

Entrance
Doors open at 9:00pm Thursday – Saturday for all their nighttime entertainment. Once you arrive at the main entrance, you will be greeted by Elevate Lounge security asking for identification to ensure if one is of proper age. If you are not at least the age of 21, you will not be allowed to enter the venue. In addition, they have a strict dress code that they are not hesitant to enforce as they wish for their guests to look fashionable. The usual attire that can be found at this venue is Hollywood casual or LA trendy. So when visiting Elevate, make sure to look your best as you do not want to stand out for the wrong reason.
Cover charge can rage from no charge to $20 per person depending on the night and type of event. Unlike other venues, Elevate Lounge does not use either a guest list or promoters to attract clientele. Elevate strictly depends on its popularity and self advertisement to draw large crowds. The reason they chose to stay away from the relationship of venue and promoter, is that they believe that with promoters one gets quantity over quality when it come to clientele. That's something Elevate does not wish to have as they prefer respectful, enthusiastic, pleasant clients that will get along with everyone; something that promoters are not able to do in the eyes of the Elevate Lounge management and staff. This is a positive for the fact that when one visits this venue, one only deals solely with the venue and not with the interest of a 3rd party that may not conform with your style or personality.
Venue
Once inside the Elevate Lounge, patrons will quickly be at awe in both the décor and scenery this venue has to offer. Decorated in the best of today's contemporary design, this venue is dressed in a sophisticated LA fashion that gives this lounge a sleek upscale look that is visually appealing to all. The beauty of this venue is enhanced even more by the glass walls that allow patrons to have a breathtaking view of the downtown L.A. skyline. With dim lighting and the bright glow of the city light under the night sky, Elevate Lounge provides a romantic and soothing atmosphere that will leave one relaxed and calm. Furthermore, Elevate offers a unique indoor outdoor design that has not been seen in any other venue thus far. Simply walking from one side of the room to the other side you will unknowingly find yourself in the outdoor section of Elevate as 150 feet of sliding glass doors disappear into thin air. Finally, this venue is equipped with state of the art audio for magnificent sound, three fully stocked bars with hard working bartenders for all your cocktail needs, a 25' x 40' dance floor for your dancing pleasure and plenty of soft seating for your comfort. In the end, Elevate Lounge is a remarkable structure that must be seen and experienced. Located 21 floors above the ground, Elevate has taken the Los Angeles nightlife to new heights.
Music
Music for the night was upbeat and amusing as the crowd enjoyed the mix of DJ Sense. DJ Sense played a great selection of Hip Hop, top 40's and hits from the 80's and 90's to ensure that everyone would have a great time. With each track that DJ Sense played, the crowd seemed to be more and more under his control as his style and talent could be heard as each song was fast paced and deep based. For this night, DJ Sense made sense, as the music never stopped nor did the dancing bodies of the elevated crowd.
VIP/Bottle Service
For those of you who enjoy the pleasures and luxury of VIP treatment, Elevate Lounge has exactly what you're looking for. Elevate offers all its patrons the opportunity to enjoy the V.I.P lifestyle by allowing one to request and purchase bottle service. Bottle service begins from $255 all the way to $2500 per bottle and comes with your choice of liquor, all needed mixers, a personal waitress and free entrance into the venue. Louis XIII is Elevate's most prestigious bottle with Patron Silver Tequila and Grey Goose Vodka being the most popular. Once you have selected the liquor of your choice, it is time to be seated in one of the several VIP areas Elevate has to offer. Each VIP section is decorated gorgeously as each area is dressed in a delightful décor of white soft couches, white marble tables and rich colorful lighting that changes throughout the night. Theses sections are truly stunning and one cannot go wrong with any section one is seated in as every area is spacious and centered in the middle of all the action. If VIP treatment is still not enough to make you feel like celebrity, you can always rent out this venue. As mentioned before, Elevate Lounge is seen as the ideal location for any private party or event. However, it will cost you a pretty penny to rent out Elevate as they have a starting average cost of about $100,000 per night. But as they say, you get what you pay for and if you want the best, this is it.
Takami Sushi and Robata Restaurant
In addition to Elevate Lounge, the Downtown Entertainment Group has created for all Angelenos an exquisite sushi restaurant named Takami Sushi and Robata Restaurant. Located just across the hall from Elevate, and just like Elevate, Takami is styled in an upscale sophisticated LA fashion with a tremendous view of Downtown Los Angeles. Takami Sushi and Robata Restaurant is open 7 days a week.
Club Central LA would like to thank the staff at Elevate Lounge for having us.
To see more pictures – Click here